Organizations
Pastoral Council
Members meet every first or second Thursday at 7:00pm at St. Monica's School L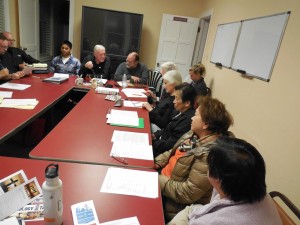 ibrary or St. Thomas the Apostle Rectory's Spiral Hall.
Mission Statement: 
Relying on the divine guidance of the Holy Spirit, the mission of the Pastoral Council of St. Monica-St. Thomas the Apostle Parish is to create and implement a plan that will assist the pastor and his staff in establishing a vibrant, flourishing, and unified Catholic community whose members reflect the love of Christ to the world around them.
Pastoral Finance Council
Finance Council provides guidance, advice, and support to the Pastor on fiscal matters.
Duties include advice on annual church budget, major and/or unusual expenditures, oversight of special Archdiocesan (AAA) collections, and capital improvement campaigns.
Publish an annual financial report to the parishioners.
Members meet monthly, August through June.
Council members are appointed by the Pastor. If interested, please contact our Pastor.