Ministries
Rosary
8:00am, Monday – Saturday at St. Monica Church.
Holy Hour
Holy Hour at St. Thomas the Apostle Church on the 1st Saturday after the 8:30 am Mass.
Bible Class
All are welcome to attend Fr. John's Bible class on Saturday from 9:30am to 11:00am. The classes are held in the rectory at St. Monica on the 2nd, 3rd, 4th, and 5th (if applicable) Saturdays. Please note that the Bible class will end on 9/16. If you would like to attend the last two classes (9/6 and 9/16), park in the school yard at 23rd Avenue and Fr. John will meet you outside.
Communion for the Homebound
Eucharistic Ministers are available to bring Communion to those who are unable to attend the Liturgy at Church. Please call the rectory at (415) 751-5275, Monday through Thursday, 9:00am to 2:30pm.
St. Vincent de Paul Society
Every fifth Sunday, a second collection for the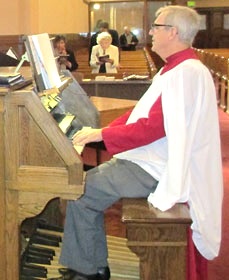 needy is taken. Members meet every third Tues. at 7:00pm in Foudy Hall (beneath the church). Volunteers are needed to make sandwiches for 300.
St. Monica Choir

Practice, Thursdays at 7:00pm in the choir room at St. Monica Church. For more information, please email Matthew Walsh at monicamusic@sbcglobal.net.
St. Thomas the Apostle Choir
Practice, Sundays at 10:30am at St. Thomas the Apostle Church. For more information, please contact Georgianna Askoff at (415) 751-5275.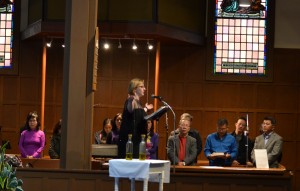 Chinese Catholic Community
The Cantonese Mass takes place every Sunday at 9:00am. For more information about the Chinese Catholic Community, please see our weekly bulletin.
Family Ministry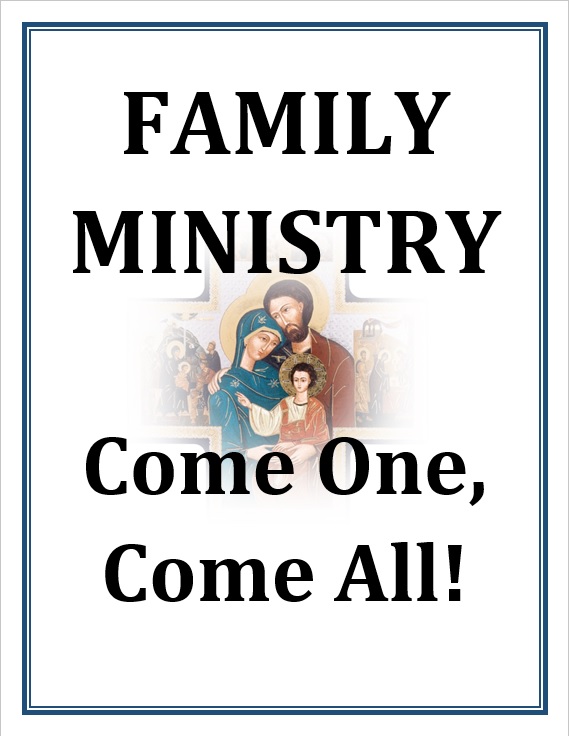 Our Mission
The Family Ministry Program serves families of all ages throughout the Outer Richmond of San Francisco. In collaboration with the Archdiocese of San Francisco, we are working to build up family communities at St. Monica-St. Thomas the Apostle Parish.
Family Ministry Goals
1. To empower families to live as disciples of Jesus Christ in our world today.
2. To draw families to responsible participation in the life, mission, and work of our Catholic faith community.
3. To foster the total personal and spiritual growth of each family member.
4. To build and foster a strong vibrant family community within the Outer Richmond.
For more information, please contact Sr. Noreen O'Connor at noconnor@csjla.org / (415) 751-5275. Please also view our Family Ministry Newsletter April 2016.
Liturgical Ministry
Altar Servers, Cross Bearers, Lectors, Eucharistic Ministers, Greeters, Ushers, Cantors, and Musicians are needed for all Masses. Please call Sr. Noreen O'Connor for more information (415) 751-5275.
Altar Servers & Cross Bearers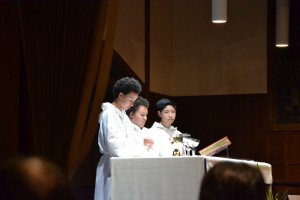 Youth – 4th Grade and older to assist presider and other ministers during Mass.
Must be faithful cross bearers before becoming servers.
Training will be provided.
Lector – Ministry of the Word
Proclaim the Word of God at Mass.
Read the Scriptures – first and second readings.
Read the general intercessions.
Training will be provided.
Eucharistic Ministers

Youth (minimum 16 years) and adults.  Must be confirmed.
Ministers of the Eucharist serve by distributing the Body of Christ at Mass.
Training will be provided.
Greeters & Ushers

Welcome parishioners and visitors to Mass.
Invite parishioners to bring up offertory gifts.
Invite parishioners to take up the collection.
Distribute bulletins after Mass.
Conduct annual parish census count in October.
Training will be provided.
Liturgical Musicians
Liturgical musicians include the music director, organist, instrumentalists, cantors, and choir members who serve the parish community at all weekend Masses, Holy Days, and special liturgies.
Members meet on a weekly basis for rehearsal and as needed.
Children's Liturgy of the Word (Family Mass 2nd and 4th Sunday @ 11:00am STA church)
This ministry offers young children an opportunity to experience God's Word in an age-appropriate way. It is offered during the Liturgy of the Word at the 11:00am Sunday Family Mass (2nd and 4th Sunday at STA church). Children ages 3-6 are invited up to be blessed and dismissed for their own Liturgy of the Word. They discuss the Gospel in a way that is meaningful to them. Children will rejoin their families for the Liturgy of the Eucharist. Volunteers assist the children with activities and responses that allow them to participate in the liturgy. For more information or to volunteer, contact Fr. John at frjohnpastor@aol.com.
Social Sunday
Hospitality is provided on the SECOND SUNDAY of every month at St. Thomas the Apostle Church. Refreshments are provided.
Friendship Sunday
Hospitality is provided on the FIRST or THIRD SUNDAY of every month while school is in session at St. Monica School. Refreshments are provided after the 10:30am Mass.
Alcoholics Anonymous
Alcoholics Anonymous is a fellowship of men and women who share their experiences, strength, and hope with each other so that they may solve their common problem and help others recover from alcoholism. The only requirement for membership is a desire to stop drinking. There are no dues or fees for A.A.  Meetings are held on Wednesdays from 7:00pm to 9:00pm at Ryan Hall beneath St. Thomas the Apostle Church.