St. Monica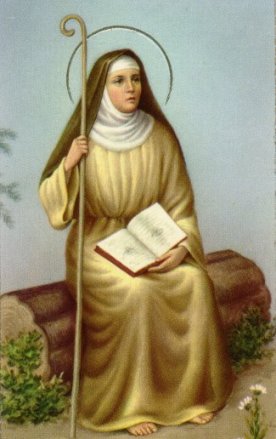 Facts
Feast Day: August 27
Patron Saint of Wives and Abuse Victims
Death: 387
St. Monica was married by arrangement to a pagan official in North Africa, who was much older than she, and although generous, was also violent tempered. His mother Lived with them and was equally difficult, which proved a constant challenge to St. Monica. She had three children; Augustine, Navigius, and Perpetua. Through her patience and prayers, she was able to convert her husband and his mother to the Catholic faith in 370. He died a year later. Perpetua and Navigius entered the religious Life. St. Augustine was much more difficult, as she had to pray for him for 17 years, begging the prayers of priests who, for a while, tried to avoid her because of her persistence at this seemingly hopeless endeavor. One priest did console her by saying, "it is not possible that the son of so many tears should perish." This thought, coupled with a vision that she had received strengthened her. St. Augustine was baptized by St. Ambrose in 387. St. Monica died later that same year, on the way back to Africa from Rome in the Italian town of Ostia.
Prayer to St. Monica
Dear St. Monica, troubled wife and mother, many sorrows pierced your heart during your lifetime. Yet, you never despaired or lost faith. With confidence, persistence, and profound faith, you prayed daily for the conversion of your beloved husband, Patricius, and your beloved son, Augustine; your prayers were answered. Grant me that same fortitude, patience, and trust in the Lord. Intercede for me, dear St. Monica, that God may favorably hear my plea for (mention request here…) and grant me the grace to accept His Will in all things, through Jesus Christ, our Lord, in the unity of the Holy Spirit, one God, forever and ever. Amen.
St. Thomas the Apostle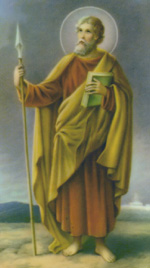 Facts
Feast Day: July 3
Patron Saint of Architects
Death: 72
St. Thomas was born a Jew and was called to be one of the twelve Apostles. His birth and death dates are unknown, but his feast day is celebrated July 3. He lived before the formal establishment of the Catholic Church but is recognized as the patron saint of architects.
He was a dedicated but impetuous follower of Christ. When Jesus said He was returning to Judea to visit His sick friend Lazarus, Thomas immediately exhorted the other Apostles to accompany Him on the trip which involved certain danger and possible death because of the mounting hostility of the authorities.
At the Last Supper, when Christ told His disciples that He was going to prepare a place for them to which they also might come because they knew both the place and the way, Thomas pleaded that they did not understand and received the beautiful assurance that Christ is the Way, the Truth, and the Life.
St. Thomas is best known for his role in verifying the Resurrection of his Master. Thomas' unwillingness to believe that the other Apostles had seen their risen Lord on the first Easter Sunday earned him the title of "doubting Thomas."
Eight days later, on Christ's second apparition, Thomas was gently rebuked for his skepticism and furnished with the evidence he had demanded – seeing in Christ's hands the point of the nails. Thomas even put his fingers in the nail holes and his hand into Christ's side. After verifying the wounds were true, St. Thomas became convinced of the reality of the Resurrection and exclaimed, "My Lord and My God," thus making a public Profession of Faith in the Divinity of Jesus.
St. Thomas is also mentioned as being present at another Resurrection appearance of Jesus – at Lake Tiberias, when a miraculous catch of fish occurred.
This is all that we know about St. Thomas from the New Testament. Tradition says that at the dispersal of the Apostles after Pentecost this saint was sent to evangelize to the Parthians, Medes, and Persians. He ultimately reached India, carrying the Faith to the Malabar coast, which still boasts a large native population calling themselves "Christians of St. Thomas."
According to tradition, Thomas was killed in an accident when a fowler shot at a peacock and struck Thomas instead. Following his death, some of his relics were taken to Edessa while the rest were kept in what is now known as India. They can still be found within the San Thome Basilica in Chennai, Mylapore, India.
Prayer to St. Thomas the Apostle
Dear Saint Thomas, you were once slow in believing that Christ had gloriously risen; but later, because you had seen him, you exclaimed: "My Lord and my God!" According to an ancient story, you rendered most powerful assistance for constructing a church in a place where pagan priests opposed it. Please bless architects, builds and carpenters that through them the Lord may be honored. Amen.
Resource:  www.catholic.org/saints/